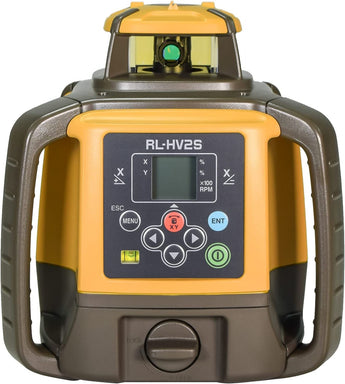 Topcon RL-HV2S
Call for pricing
The Topcon RL-HV2S Dual Slope Construction Laser Level is built for multitasking – jobs where you need a laser for horizontal, dual slope, or vertical applications. This laser is easy to use and will meet all your jobsite rotating laser needs.
Multi-Use Applications:
Designed for multiple types of tasks, the Topcon RL-HV2S can be used for horizontal, sloping, and vertical laser applications. Slopes up to ±5% (±15% with tilting plate) can be used in either the X or Y axis. Turn it on its side and use it for layout and alignment jobs.
High Powered:
With an operating range of over 800 m (diameter) the RL-HV2S has the power to cover even the biggest projects. (Laser class 1)
Contractors who want a laser with a long battery life will love the RL-HV2S. With an operating time of 65 hours with the rechargeable Ni-MH battery pack, this laser will still be working long after others have quit. 
All Weather Dependability:
With the IP66 rating, the RL-HV2S is "jobsite tough" and can withstand dust, a sudden shower and even torrential rainfall.
RL-HV2S Features:
Long Range Operation – 800 m (diameter) 
Horizontal, Multi-Slope & Vertical Applications
Extra Long Battery Life (up to 65 hours)
Tough IP66 Construction Rating
Laser Manager App (download)
Digital Value Readout
RL-HV2S PACKAGE INCLUDES:
RL-HV2S, Laser Manager App (download), LS-80X Detector, Receiver Holder, Batteries, and Carrying Case
LS-80X Sensor Features:
Provides exactly the information needed at the leveling pole, including alerts for situations involving heights, out-of-range locations, and low batteries. And it's jobsite ready – rugged, water and dust resistant, and usable with the most conventional rotating lasers. Quickly and accurately finish any job from sub-base leveling to concrete finishing with a single crew member.
Two way communication
Height alert and laser battery status
5 levels of LCD display precision
Extended battery life
9 channel display
2 accuracy settings
Water and dust proof
Automatic shutoff
Adjustable beeper
Includes Topcon's LS-80 Series Holder 6
LS-80X Sensor Specifications:
Working Range (diameter): 800 m

Two on-grade precision settings

9-channel grade indication

Dual LCD Display — Front and back

Loud/Low/Off buzzer for audible allerts

Power supply — 2 AA batteries

Up to 120 hours run time
Laser Manager Mobile App
Laser Manager, the new mobile app, significantly simplifies operation and puts many of the most common laser functions directly on the user's own mobile device, such as:
App Features:
Remotely see and set position and slope

Adjust rotation speed and different working modes
Self inspection mode – will guide you easily through the calibration process
This new functionality increases the speed of setting up the laser and allows you to adjust the laser beam in all axis directly on your mobile device, meaning less time walking to the laser or climbing in and out of ditches and tight spots. This increases convenience and safety. Laser Manager also reduces the number of remote controls you need to carry. The Laser Manager App is available free of charge in Google Play store as well as Apple App store.